Self-imagination/Add Imagination on Personal Experiences: Wacini Laredj's Dakira El-Ma (Water's Memory Model)
حسينة لعوج

University of Mouloud Mammeri, Tizi-Ouzou, Algeria.
Keywords:
Self-imagination, Autobiographical Novel, Autobiography, Game of Pronouns, Imaginary Description, Monologue, Dialogue Techniques, Aesthetics.
Abstract
The autobiographical novel differs from the real autobiography since the latter relies on personal and real facts of the writing ego, and the writer is not allowed to say or talk of something that is not related to him. The writer includes his personal experience in the writing according to the conditions set by Philippe Lejeune. Whereas the autobiographical novel belongs to the novelistic genre in which the writer has recourse in the first place to the element of imagination in his artistic work, taking advantage of the factors and techniques which make his novel a higher artistic work since it provides aesthetics. The proof is that the autobiographical novel is given the term "Self-imagination" at present because of its propensity for imagination in describing real facts that the writer reports reality to others with his creative composition
References
Al-Sharif Habilat(2010). al-riwayat wa al-anaf, darasat susiwnasiyat fi al-riwayat al-jazirat al-mo'asir, al-alam al-kutub al-hadith, 1st edition, Erbed.
Sha'ban abdulhakim Muhammad(2008).al-sirat al-zatiyah fi al-adab al-arabi al-hadith, ruyat naqdiya, dar al-ilm wa al-iman lelnashr wa al-tawzi'e, 1st edition, kofr al-shaykh.
Abdulmalik Ashhabun (2007). men khitab al-sirat al-mahdud ila awalim al-takhiil al-zati al-rahbat, wizarat al-thiqafa, Fas.
Abdulmalik murtaz (1998). fi nazariyat al-riwayat bahth fi taqniat alssard, Kuwait, alam al-marift
Philippe Lejeune (1994). Al-sirat al-zatiyat,al-mithaq wa al-tarikh al-adabi, translated by: Omar Helli, al-markaz al-thaqafi al-arabi, 1st edition, al-dar al-bayza.
Latifa Labsir (2012). saiiruhunna al-zatiya- aljins al-multabis, muhakimat leldirasat wa al-nashr wa al-tawzi'e, 1st edition, Syria, Damascus.
Wasini al-A'araj(2001) zakirat al-ma', manshurat al-faza al-hur, 1st edition, al-jazair al-asimat.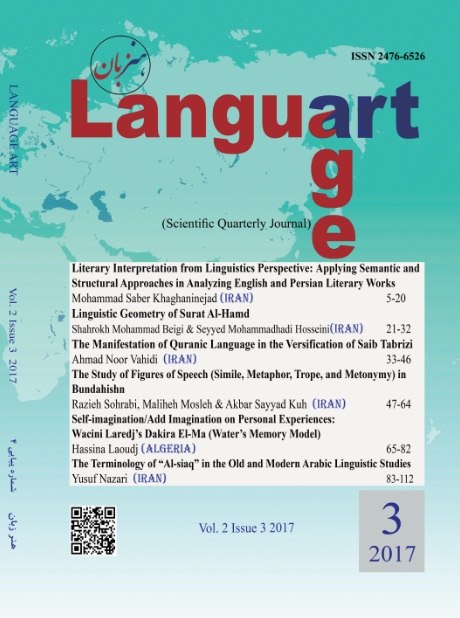 How to Cite
لعوجح. (2017). Self-imagination/Add Imagination on Personal Experiences: Wacini Laredj's Dakira El-Ma (Water's Memory Model). LANGUAGE ART, 2(3), 65-82. https://doi.org/10.22046/LA.2017.17
Copyright (c) 2017 Hassina Laoudj
This work is licensed under a Creative Commons Attribution 4.0 International License.