A Critique on the Book of 'hediye Jān'
(A Report on Stories of the Divan of Khaghani Shirvani)
اکبر حیدریان

PhD student of Persian language and literature, Ferdowsi University of Mashhad
Keywords:
Khagani's Poems, Descriptions, Criticisms, hediye Jān.
Abstract
This article is about critical review of the Book of 'hediye Jān' (A Report on Stories of Divan of Khaghani Shirvani) by Dr. Ata Mohammad Radmanesh. In this paper, we will show that for some reasons, such as lack of research in the history of the research, tolerance and latitude, the failure to cite all references and misunderstandings of parts of the text, the present text is not reliable and its shortcomings needs to be revised and redefined to increase its richness. Also, since this book of has been prepared to explain a number of Khaghani odes, it is necessary to study this book parallel to the other one; therefore, in the first part of the article, we review the book and the field of critique of structure and in the second part of the criticizing of describing the content of the book has been considered and then the shortcomings of each one has been examined.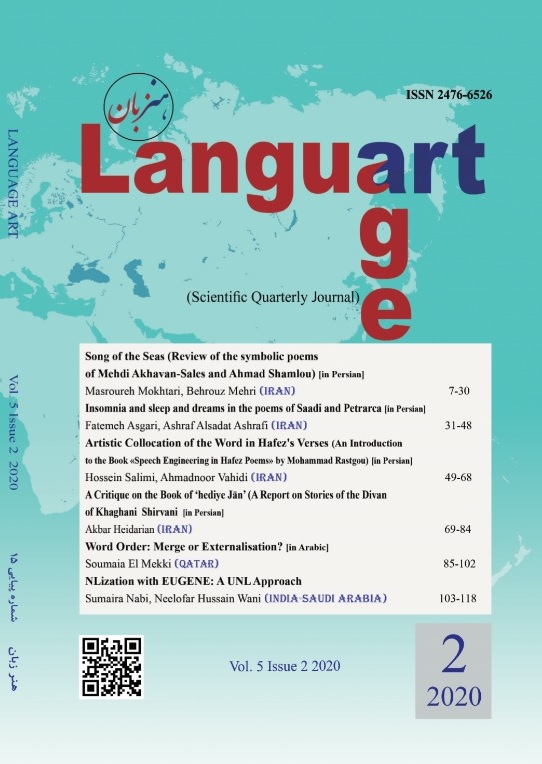 How to Cite
حیدریانا. (2020). A Critique on the Book of 'hediye Jān'. LANGUAGE ART, 5(2), 69-84. https://doi.org/10.22046/LA.2020.10
Copyright (c) 2020 Akbar Heidarian
This work is licensed under a Creative Commons Attribution 4.0 International License.