Insomnia and sleep and dreams in the poems of Saadi and Petrarca
فاطمه عسگری

Assistant Professor in Italian Language and Literature, University of Tehran

اشرف السادات اشرفی

Phd Student, in Persian language and Literature, Islamic Azad University, Arak branch
Keywords:
Saadi, Petrarca, Nightmares, Insomnia, Comparative Study
Abstract
The phenomenon of insomnia is one of the poetic themes that has a high frequency in Saadi's poetry as a poetic character and style. Insomnia in love is a theme that in both Western and Eastern literature and specifically in the Persian literature has always been used as a very important subject. So many beautiful poems that express poet's night's suffering and sadness in the memories of his beloved. The poets in this research have written a long time about the sleepless nights, the long night of love. As a fact, Insomnia and dreams are also mysterious and surprising elements that are often found in the poet's love poems, usually as an internal element in the semantic structure of poetry itself. Poets in their night dreams and insomnia achieve their unfulfilled dreams in their real life. In this essay, the authors seek a comparative study of the sleepless nights and dreams of Italian poet Petrarch and his Persian contemporary poet, Saadi. Given the impact that the culture and literature of nations have often on each other, it is then necessary to ponder on this phenomenon. At the end of the research we will find the similarities and differences between the meaning and the use of sleep and dream in the poems of this great face of rich Eastern and Western literature.
References
The Holy Quran, translated by Sheikh Hussein Ansari
Agostino (2000). Le Confessioni, a cura di Maria Bettetini, traduzione di Carlo Carena, Torino, Einaudi, pp. 376-379.
Cappozzo Valerio (2009). Libri dei sogni e letteratura: l'espediente narrativo di Dante Alighieri» in Giulia Natali, Pasquale Stoppelli, Studi di letteratura italiana. In memoria di Achille Tartaro, Roma, Bulzoni Editre, p.99.
Cappozzo Valerio (2014). Crossing Boundaries: Islamic Dream Sciences, Dante and Romance literature, in Hadeeth ad- Dar, n. 38, pp. 25-30
Cappozzo Valerio (2015). «Delle verità dimostrate da sogni: Boccaccio e l'oniromanzia medievale», in Francesco Ciabattoni Elisa Filosa, Kristina Olson (a cura di), Boccaccio 1313-2013, Ravenna, Longo Editore, p. 206
Cappozzo Valerio (2018). Dizionario dei sogni nel Medioevo. Il Somniale Danielis in manoscritti letterari, Firenze, Olschki.
Cardini Franco (1980). Sognare a Firenze tra Trecento e Qattrocento, in Quaderni medievali, n. 9, pp. 86-120.
Goli, A., Rajabi, R. (2010). Dream in the Shahnameh. Classical Persian Literature, 1(1), 73-92.
Gregory Tullio (a cura di) (1985). I sogni nel Medioevo, Atti del seminario internazionale di Roma (2-4 ottobre 1983), Roma, Edizioni dell'Ateneo.
Haddad, V., Naji Isfahani, H. (2015). Sleep and Dream and Their Analysis from Avicenna and Mulla Sadra's View. Journal of Philosophical Theological Research, 17(1), 111-130. doi: 10.22091/pfk.2015.611
Jung, Carl Gustav (1998). Particularities of Dream-Analysis, Translated by Reza Rezaei, Tehran: Afkar Publishing.
Komeili, Mokhtar (2013). Sleep and Dream in Hafez' Divan. Journal of Boostan Adab, 5(3), 167-190. doi: 10.22099/jba.2013.929
Kruger Steven F. (1992). Dreaming in the Middle Ages, Cambridge University Press.
Mahdavi Damghani, Farideh (2009). Surudehāye āʃeqāneh Francesco Petrarca. Tehran: Tir Publishing.
Najafi, Amir & Delavari Moghadam, Ali (2018). kārkard-e xāb va ruyā dar adabiyāt-e kuhan-e Iran, 5th National Conference on Management Research and Humanities in Iran, Tehran, Modbar Management Research Institute.COI: IICMO05_079
Neda, Taha (2001). adabiyāt-e tatbighi. Translated by Zahra Khosravi, Tehran: Farzan Publishing.
Petrarca Francesco(2012). Canzoniere, a cura di Paola Vecchi Galli, Milano, Biblioteca Universale Rizzoli .
Saadi, Mosleh ibn Abdullah (1993). koliyāt-e saadi. By Mohammad Ali Foroughi, Tehran: Amir Kabir Publishing.
Sancholi, Ahmad (2017). Saadi va ʃab va bixābi, Journal of Lyrical Literature Researches, 15(29), 107-128. doi: 10.22111/jllr.2017.3966
Seyed Hosseini, Reza (1997). Maktabhāye adabi. Vol. II, Tehran: Negah Publishing.
Vangelo di Matteo (27,19) (1974). in La Sacra Bibbia, Roma, Edizione ufficiale della Cei, Unione Editori Cattolici Italiani, p. 1025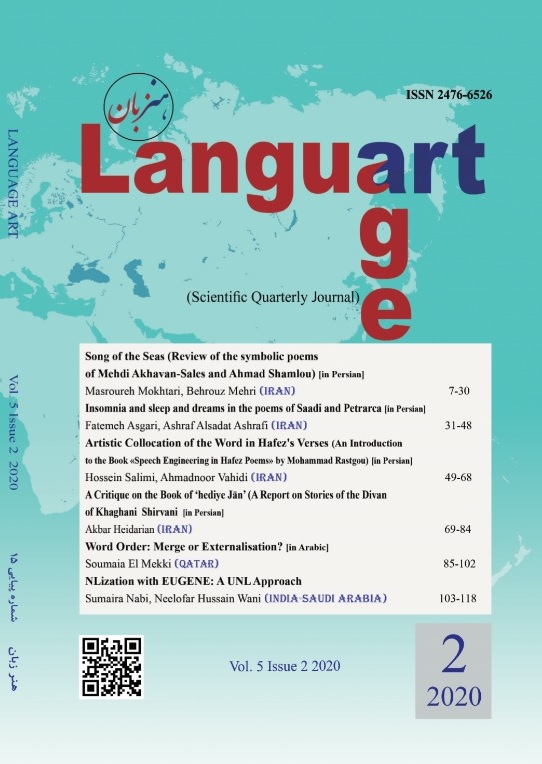 How to Cite
عسگریف., & اشرفیا. ا. (2020). Insomnia and sleep and dreams in the poems of Saadi and Petrarca. LANGUAGE ART, 5(2), 31-48. https://doi.org/10.22046/LA.2020.08
Copyright (c) 2020 Fatemeh Asgari, Ashraf Alsadat Ashrafi
This work is licensed under a Creative Commons Attribution 4.0 International License.