Artistic Collocation of the Word in Hafez's Verses
(An Introduction to the Book "Speech Engineering in Hafez Poems" by Mohammad Rastgou)
احمدنور وحیدی

Assistant Professor of Higher Education Complex of Saravan

حسین سلیمی
Keywords:
Hafez, Speech Engineering, Poetry, Seyed Mohammad Rastgou.
Abstract
Hafez's linguistic and rhetorical skills in his poetry have led the audience to his poetry, appropriate to the level and extent of his emotions, feelings, and knowledge of the linguistic and semantic layers of their vocabulary and their artistic and contextual connection, interpretations and meanings. Pulling many different from his poetry and thereby achieving greater enjoyment and artistic enjoyment. Hafez himself, of course, with his great knowledge and aristocracy of language and his various capacities, has been instrumental in the selection and companionship of words based on their artistic and semantic links. However, in many cases, the author's in many cases, plays the role of the reader. Poetry is undeniable in the discovery and extraction of the semantic and linguistic layers of their meticulous and solid musical words and links. One of the great scholars who has done detailed, in-depth and extensive studies in the field of Hafez, his poetry, language and thought and dedicated valuable work to the literary and scientific community in this difficult field, is Dr. Mohammad Rastgou, who has authored and his research has always been and remains a pioneer in the field of linguists and researchers, in particular hieroglyphics and ontology. This article seeks to endorse Dr. Rastgou's explanations and material in connection with Hafez's artistic practices, and further points to complement and explain the greater artistic capacities of Hafez's poetry, and especially those in question. The research method is documentary.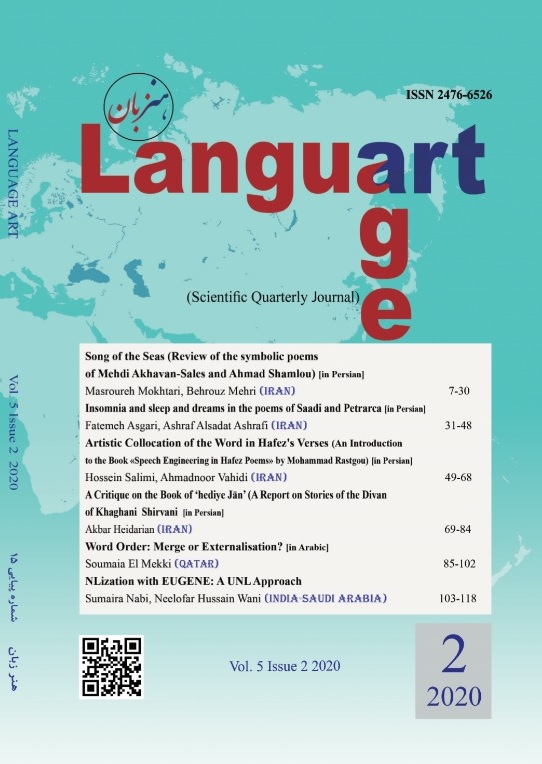 How to Cite
وحیدیا., & سلیمیح. (2020). Artistic Collocation of the Word in Hafez's Verses. LANGUAGE ART, 5(2), 49-68. https://doi.org/10.22046/LA.2020.09
Copyright (c) 2020 Ahmad Noor Vahidi, Hossein Salimi
This work is licensed under a Creative Commons Attribution 4.0 International License.