Linguistic Geometry of Surat Al-Hamd
شاهرخ محمدبیگی

Associate Professor of Persian Language and Literature Department, Shiraz University, IRI

سید محمدهادی حسینی

PhD Candidate of Persian Language and Literature Department, Shiraz University, Iran.
Keywords:
Surat Al–Hamd, Linguistic Geometry, Gratitude, Praise, Prayer.
Abstract
Discussion on the linguistic structure of Surat Al-Hamd rather than being the extensive interpretation issues which are highlighted in the history of religious culture, presents a methodological inquiry with new approaches to the field of Language and Literature. The origin of this method is that of which that selects brevity instead of detail, and instead of subjective and abstract structures, discloses a sensual and objective geometry; i.e., the basis of this article has been derived from a plan for three areas of gratitude, praise and prayer, which is definitely learnable and spectacular in the linguistic structure of Surat Al-Hamd. Certainly, by clarifying the linguistic structure of Surat Al-Hamd, the reasons for the supremacy and conspicuousness of this Surat, and its base in the religious discourse and its incomparable role in devotions and prayers become more apparent. The first manifestation of this linguistic geometry is in the verse of Tasmiyat or Bismillah al-Rahman al-Rahim, in which God's gratitude with praise are intertwined to direct the speech and behavior of believers. Six parts of this essay are all about three sides of semantic and linguistic context of Surat Al-Hamd, which are arranged one by one in the framework of resources of the language of mysticism and the mysticism of the language, and it places the literary researchers as its audience.
References
Akbari sholdarei, F., Kajanie Hesari, H. and Khatami, R. (2015). Mabāniye xāndan dar zabāne fārsi: Ɂāmuzeʃe mahārathāye xāndāri, Tehran: Lowhe Zarrin.
Meibodi, A. R. (1973). kaʃfol asrār va Ɂddatol Ɂabrār, Tehran: Amir Kabir.
Aminpour, Gh. (2011). maǰmuɂeye kāmele ɂaʃɂār, Tehran: Morvarid.
Ansari, A. (2014). ɂaz dust dāʃtan, Tehran: Hezareye Qoqnus.
Agamben, Q. (2012). Language and Death: the Place of Negativity, Translated by: Pouya Amini, Tehran: Nashre Markaz.
Bazorgan, A. (1992). Nazm dar Quran, Tehran: Qalam.
Bahrampour, A. (2010). Tafsire mobayyen, Qom: Avaye Quran.
Company Zare, M. (2015). Jawāhir al-Qur'ān, Ghazzali, Translated and Analyzed and Critical, Tehran: Negah-e Mo'aser
Jami, A. (2014). Tohfatol ɂasrār, Amended by: Kamaleddini, S. M., Yazd: Kamal.
Hafez, Sh. (2010). Divāne xāǰe ʃamseddin hāfeze ʃirāzi, Compiled by: Jalalie Naini, S. M. and Nazir, A., Tehran: Amir Kabir.
Mirza Baba Shirazi, A. (1984). ɂanvāre maɂrefat fi ʃarhe mesbāhe-ʃʃariɂat va meftāhel haqiqat, Tehran: Khanqahe Ahmadie Foqara e zehbie.
Zamani, K. (2000). ʃarhe ǰāme-e masnavie maɂnavi, 4th Ed., Tehran: Etelaat.
Saadi, Sh. (2006). Koliyyāte saɂdi bā kaʃfol ɂabyāt, Amended by: Foroughi, M., 1st Ed., Tehran: Hermes.
Shafiei Kadkani, M. (2010). Musiqie ʃeɂr, 12th Ed., Tehran: Agah.
Schimmel, A. (1997). Deciphering the Signs of God: A Phenomenological Approach to Islam, Translated by: Govahi, A., Tehran: Daftare Nashre Farhange Eslami.
Erfan, H. (1996). Karānehā: ʃarhe fārsie ketābe moxtasarol maɂāni, Qom: Hejrat.
Qazzali, M. (2015). ǰavāheral kalām: Translation, Analysis and Critique, by: Kompani Zare, M., Tehran: Negahe Moaser.
Mohammad Beigi, Sh. (2015). Simāye xodi va qeyre xodi dar gostareye ɂāyāte elāhi, Shiraz: Shahrokh Mohammad Beigi.
Mulavi, J. (2001). Divāne ʃams: motābeqe nosxeye ɂostād badiɂozzamāne foruzānfar, Edited by: Homayi, J. Tehran: Badraqeye Javidan.
Nezami, J. (1997). Maxzanol ɂasrār, Ameneded by: Vahide Dastgerdi, H., Compiled by: Hamidian, S., 1st Ed., Tehran: Ghatre.
Nayyeri, M. (2007). Sowdāye sāqi, Shiraz: Daryaye Noor.
Nayyeri, M. (2011). Qāfe ɂeʃq, Tehran: Afraz.
Homayun, S. (2012). ɂāmuzeʃe ru xāni va ravān xānie Quran e karim tebqe rasmol mosahhef eʃʃarif, 13th Ed., Qom: Mo-ude Islam.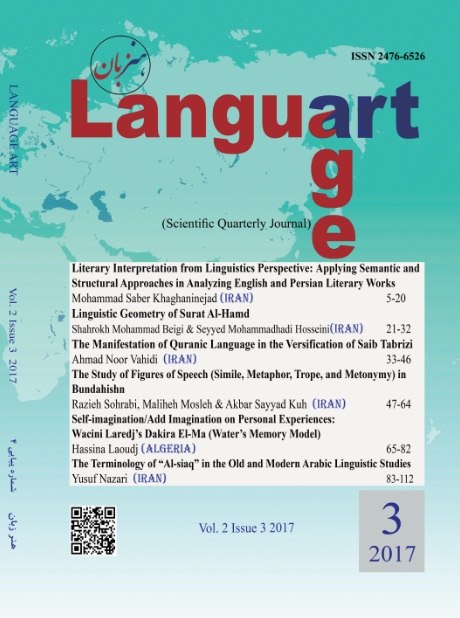 How to Cite
محمدبیگیش., & حسینیس. م. (2017). Linguistic Geometry of Surat Al-Hamd. LANGUAGE ART, 2(3), 21-32. https://doi.org/10.22046/LA.2017.14
Copyright (c) 2017 Shahrokh Mohammad Beygi, Seyyed Mohammadhadi Hosseini
This work is licensed under a Creative Commons Attribution 4.0 International License.